Currently, an estimated 4.5% of adults in the United States identify as LGBT+. The diversity of sexual orientation, gender identity, and gender expression can be surprising—even to healthcare professionals. In healthcare settings, lack of knowledge and familiarity with lesbian, gay, bisexual or transgender (LGBT+) people can lead staff to rely on stereotypes, which leads to misunderstandings and disparate care. These misunderstandings can cost LGBT+ patients their dignity and their health.
The terms related to LGBT+ refer to a person's sexual orientation or gender identity, or SOGI for short. Lesbian, gay and bisexual are sexual orientations, while transgender refers to gender identity. The LGBT acronym is often expanded to cover an even wider range of sexual orientations and gender identities. This is why you might also see the LGBT acronym with additional letters, or simply a plus sign (+) following the T.
Many believe that sex, gender, gender expression, and gender identity are one in the same. They are related, yet distinct.
Sex is assigned at birth based on biological categories, including anatomy, genetics, and hormone levels and function; sex categories are currently understood as male, female, or intersex.
Gender is more of a social category based on culture and customs associated with the sexes; males are men, females are women, and people outside of these cultural norms often feel invisible, erased, or pathologized.
Gender expression refers to how a person presents themselves to the world, expressed through their behavior and appearance; there is an expectation that men act and look "masculine" and women "feminine."
Gender identity is how people perceive themselves and describe themselves; it refers to a person's inner sense of being a man, woman, a blend of both, or neither.
If someone's gender identity differs in some way from their assigned sex of male or female, they may identify as transgender, gender non-conforming, non-binary, or something else. The prefix "trans" means "across," "beyond," "through," or "changing." It is important to understand that not everyone who is intersex identifies as transgender, and not everyone who identifies as transgender is intersex.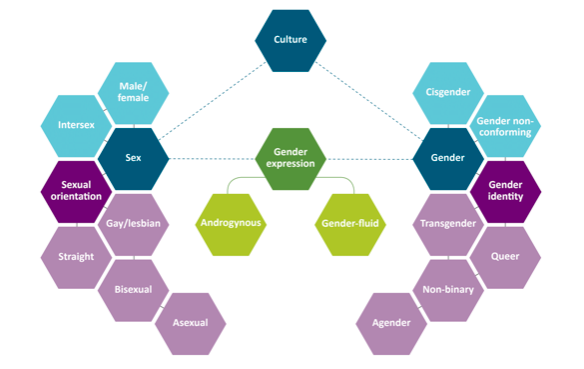 Whether or not your healthcare staff collect SOGI information from patients, it is important for them to support patient self-identification and interact easily and professionally with LGBT+ patients. A positive step towards engaging LGBT+ patients, families, and co-workers in a more welcoming and affirming manner is to provide staff with education about basic SOGI vocabulary.
To learn more about our robust SOGI product line, including eLearning, or to receive a FREE copy of ACTS Facts™—Definitions for SOGI Affirmation, contact us at info@moreinclusivehealthcare.com