At More Inclusive Healthcare we know you are facing challenges. Like other pandemics, COVID-19 will disproportionately impact the lives of minority populations and other vulnerable patient groups, including the elderly and low-income. I have a loved one in a long-term care facility—a grandfather named Clarence, who has already struggled through two bouts of pneumonia. In the photo, Clarence is standing beside the family home in West Virginia, built by my great-grandfather who was a stonemason. My great-aunt Lucy eventually took ownership of the family home in West Virginia, which was later sold to pay for expenses related to medical bills.
My grandfather Clarence became part of what is known as the Great Migration when he and my grandmother, like many Appalachians (black, white and Native American), moved North for "better" jobs. Although Clarence didn't have to work in a coal mine like other relatives, in many ways, my grandparents became poorer than they were before. Clarence got injured working for the railroad, took an early retirement, struggled with mental illness, and ended up on disability and Medicaid/Medicare.
I've been thinking about my grandfather and wondering, what if the number of patients who need hospitalization and ventilators exceeds our healthcare system's capacity? My grandfather is in his eighties. What value will be placed on his life? What policies will be implemented to help determine which patients will get beds and ventilators?
At More Inclusive Healthcare (MIH) we are curating articles and resources focused on the challenges vulnerable and diverse patient populations—and their care providers—face during the COVID-19 pandemic. For the next few weeks, we will send you this newsletter with links similar to those below. We hope to help you and your healthcare organization navigate through this difficult and uncertain time.
Sincerely,
Senior Healthcare Equity Specialist
Vicki A. Summers
---
Related Articles
What 'Distributive Justice' Means for Doctors Treating Covid-19
New York Review Daily
March 2020
The four stages of COVID-19
Healthcare rationing when demand outstrips supply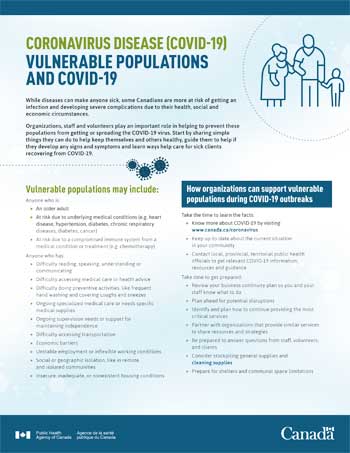 Vulnerable Populations and COVID-19
Public Health Agency of Canada
March 2020
Preventing vulnerable populations from getting COVID-19 and spreading it
Suggestions for supporting vulnerable populations during the outbreak